1. How did the idea of creating need4sheed.com arise? Do you expect to become so important?

//

¿Como surgió la idea de crear need4sheed.com? ¿Esperabas ser tan importante?
I created Need4Sheed as way to get my cartoon and screensaver of the Pistons out to my friends who kept asking me to send them to them. I didn't really blog it was just my artwork out there. That was back in 2004 right after the Pistons won the Championship.
It grew from there and I started blogging more. I don't know if it's that important, but it's made me an even bigger fan and makes me appreciate how lucky I am to be able to attend games and share my thoughts and work with fellow Pistons fans.
It's also very nice to be able to talk to and meet other Pistons fans from all around the world. I've also make a lot of friends from a little website that I made 10 years ago. //
Cree Need4Sheed como una forma de enseñar a mis amigos las caricaturas y salvapantallas de los Pistons que ellos me pedían que les enviara. Realmente no tenía un blog, eran sólo mis dibujos. Eso fue en 2004 justo después de que los Pistons ganarán el anillo.
Ahí nació y empecé a escribir más. No se sí es importante pero me ha convertido en una gran fan y me hace apreciar la suerte que tengo de acudir a los partidos y compartir mis opiniones y trabajo con otros aficionados de los Pistons.
También está muy bien poder hablar y conocer a otros aficionados de los Pistons de todo el mundo. He hecho muchos amigos gracias una pequeña web que cree hace 10 años..
2. If Monroe is finally transferred, how would pistons fans react there? Here, a lot of people love Moose. //

Si traspasamos a Greg Monroe ¿Cómo reaccionan los fan de los Bad Boys allí? Aquí mucha gente quiere Monroe.
I believe plenty of fans will be upset if Greg Monroe is traded or leaves via free agency. The reality is that it will probably happen because of the money he will demand.
It will be especially upsetting knowing how much Pistons fans love having him next to Andre Drummond.
Creo que muchos aficionados estarían disgustados si Monroe es traspasado o se va vía agencia libre. La realidad es que probablemente ocurra, por el dinero que va a pedir.
Será especialmente decepcionante sabiendo como los aficionados disfrutan teniéndole al lado de Drummond.
3.

What did you think choosing KCP before Trey Burke? Do you expect great things from Siva and Mitchell in the future? // ¿

Qué

piensas de haber elegido a KCP antes que a Trey Burke?

¿Espera grandes cosas de Siva y Mitchell en el futuro?
The consensus of most Pistons fans was that they wanted Trey, especially since the Pistons didn't have a true point guard. I myself would have loved to see him in a Pistons uniform, and was shocked when Dumars didn't draft him.
With the way Trey has been playing and the fact that KCP's shot isn't quite there yet makes it even worse.
I've seen players like Siva and Mitchell come and go for Detroit. It's pretty rare that second rounder get a chance on this team. Jonas is really the only player of late that stuck with the team and his minutes have been few and far between for the past few season.
I like what Siva brings and hope he gets a chance, but he needs work and I doubt that Detroit will stick with him to give him that chance..
//
La mayoría de los aficionados querían a Trey, y más sabiendo que los Pistons no tienen un verdadero base. A mi personalmente, me habría encantado verle con el uniforme de los Pistons y me sorprendió que Dumars no le seleccionara.
De la manera con la que Trey ha estado jugando y viendo que el tiro de KCP no acaba de llegar lo hacen incluso peor.
He visto jugadores como Siva y Mitchell ir y venir en Detroit. Es muy raro que un jugador de segunda ronda tenga la oportunidad de triunfar en el equipo. Jerebko es el único que ha permanecido en el equipo y que ha tenido sus minutos en las últimas temporadas.
Me gusta lo que ofrece Siva y espero que tenga una oportunidad , pero necesita trabajar y dudo que Detroit aguante para darle esa oportunidad.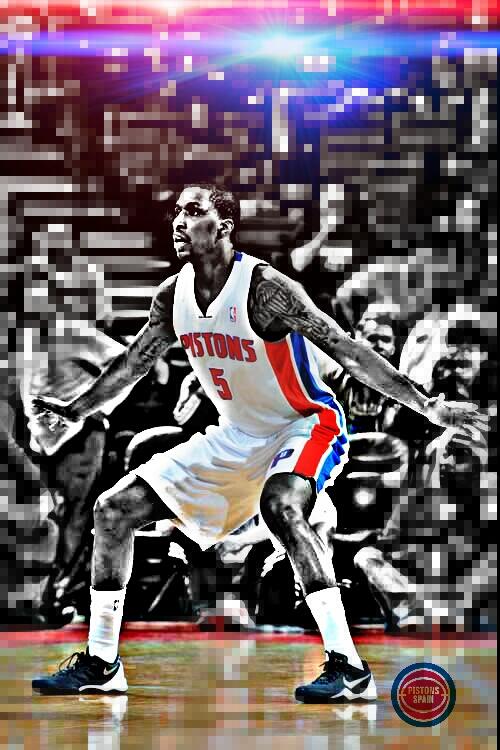 Kentavious
4. In the event that Afflalo returns shouldn´t person whose name stars with "Jo" and ends with "e" leave? Remember: (Afflalo and Walter Sharpe x pick 2ª ronda and cash) //

En el caso de que volviese Afflalo no se debería marchar una persona cuyo nombre empieza por Jo y acaba por e? Recuerda: Afflalo y Walter Sharpe por pick 2ª ronda y dinero.
Joe seems to like to bring back old players and I'd personally love to see Arron back in a Pistons uniform. With him brining back Chauncey I don't think he'd think twice or be embarrassed he let Afflalo go for nothing. //
A Joe parece gustarle traer de vuelta antiguos jugadores. Personalmente me encantaría ver a Aflalfo de vuelta. Habiendo traído a Chauncey no creo que se lo pensase dos veces o se sintiera avergonzado por dejar a Afflalo marchar por nada.
5.
I'd love you to tell me the real situation of the city of Detroit. Pistons play in Auburn Hills at 50km, but I would like to know first hand the real situation of the city and its habitants. Does it affect assistance Palace?? //
Me gustaría que me contarás la situación real de la ciudad de Detroit. Los Pistons juegan a 50 km en Auburn Hill pero me gustaría saber de primera mano como es la situación real de la ciudad y sus habitantes. ¿Afecta a la asistencia al Palace?
Anyone who lives in the state of Michigan can go on and on about the state of the city of Detroit. While the Tigers, Lions and Red Wings all play in Detroit, the city itself has a lot of problems. The population is down and the city itself in bankrupt.
The state of the city will always have some effect on the other cities and suburbs around Detroit, but doesn't have much effect on the Palace of Auburn Hills.
I myself would be able to go to Pistons game if they were in Detroit or Auburn Hills, but for me it's a little closer to head out to the Palace than it is to go to Detroit. //
Cualquiera que viva en el estado de Michigan puede hablar de la situación de la ciudad de Detroit. Mientras que los Tigers, los Lions y los Red Wings juegan en Detroit, la ciudad tiene un montón de problemas. La población disminuye y la ciudad está en bancarrota.
La situación de la ciudad siempre tendrá algún efecto en otras ciudades alrededor de Detroit pero no tiene mucho efecto en The Palace.
Yo podría acudir a un partido de los Pistons tanto en Detroit como en Auburn Hills, pero para mi es más fácil ir a The Palace, que lo que supone ir a Detroit.
6. Why are you a Pistons fan? What is your first memory of the team? //
¿
Porqué
eres aficionado a los Pistons?
¿
Cuá
l es tu primer recuerdo del equipo?
My first memory of the Pistons was going to a game when they played at the Pontiac Silverdome. It was right before the Pistons drafted Isiah Thomas. I've been a fan ever since. //
Mi primer recuerdo es ir a un partido en el Pontiac Silverdome. Fue justo antes de que los Pistons draftearan a Isiah Thomas. He sido aficionada desde entonces.
Pontiac Silverdome
7. What is your favorite player in the current team Pistons? //
¿Quién es tu jugador favorito en el equipo?
Andre Drummond, isn't it everyone's? //

Andre
Drummond,
¿
no es el de todos?
8 Michael Curry, John Kuester, Lawrence Frank and Maurice Cheeks. Have we been without a coach since 2008? Why? This is terrifying. What do you think of maurice cheeks ? Here in Spain we think Cheeks is wasting a lot of talent. //
Michael Curry, John Kuester, Lawrence Frank
y
Maurice Cheeks.
¿
Hemos estado sin entrenador desde 2008?
¿
Porqué
?
¿
Qué piensas de Maurice Cheeks?
Aqu
í
en Espa
ñ
a pensamos que Cheeks está desperdiciando muchí
simo talento.
Pistons fans here feel the same way you do in Spain. We thought Curry was horrible, Kuester didn't know what he was doing. I always thought Lawrence Frank was a good coach, but just couldn't make it work with what Joe Dumars gave him to work with and Dumars needed someone to blame.
Though I think Cheeks was a good player, he looks lost at times when he's coaching. I'd be surprised if he's the Pistons coach next season.
The problem is, what good coach would come to Detroit when they see what happens to coaches here? (*
the interview was conducted just before Cheeks was fired
)//
Los aficionados de aquí sentimos lo mismo que vosotros en España. Pensábamos que Curry era horrible y Kuester no sabía lo que estaba haciendo. Siempre pensé que Lawrence Frank era un buen entrenador pero no pudo hacer funcionar al equipo con lo que Dumars le dió, y Dumars necesitaba echar la culpa a alguien...
A pesar de pensar que Cheeks era un buen jugador, a veces parece perdido cuando esta entrenando. Estaría sorprendida de que entrenase el año que viene a los Pistons.
El problema es ¿Que entrenador vendría a Detroit sabiendo lo que les pasa aquí a los entrenadores? (*La entrevista se realizó justo antes del despido de Maurice Cheeks)
9. What about trade rumors? //

¿Rumores de traspaso?
Greg Monroe's name is the only legitimate name that's been talked about as far as trades. He's a legitimate trade piece for Detroit, but Dumars will expect a lot in return.
Stuckey and Villanueva come off the books after this season, so they could possibly go if Joe can get a good player from a team that needs cap space next season.
Smith has been shopped around, but no team want to touch him. //
Monroe es el único nombre del que se ha hablado hasta ahora. Es una buena opción de traspaso para Detroit pero Dumars esperará conseguir mucho a cambio.
Stuckey y Villanuenva acaban contrató este año así que se podrían marchar si Joe encuentra un buen jugador de algún equipo el cual necesite liberar salario.
Smith ha estado en el mercado pero ningún equipo ha querido saber nada.
10. Is there any possibility that any Pistons player commanded us a greeting in a video? That would be fantastic for the fans here in Spain (although I understand it is very difficult). //

¿Hay alguna posibilidad de que algún jugador de los Pistons nos salude en un vídeo? Sería fantástico para los aficionados aquí en España (aunque entiendo que es difícil).
I think it would be difficult to get a player to do a video for you, but I'll see if maybe Andre Drummond can do something for you. He loves twitter, instagram and vine so he may be up to it. The next time I see George Blaha I'll see if he can mention Pistons fans in Spain on the broadcast.
I can't promise anything since many of the people I know from the Palace left the past few years but I will try! //
Creo que sería difícil que un jugador hiciera un vídeo pero veré si quizás Drummond puede hacer algo para vosotros. Adora Twitter, instagram y Vine así que quizás pueda hacerlo. La próxima vez que vea a George Blaha veré si puede mencionar a los aficionados de los Pistons en España. No puedo por prometer nada ya que mucha gente de la que conocía en e Palace se ha ido, ¡Pero lo intentare!
Andre Drummond Videobombs Pistons Broadcaster George Blaha.
// Aquí vemos como Andre Drummond "sabotea" a George Blaha.
Thanks Natalie for the interview, here in Spain
need4sheed.com
is a reference site. We love your cartoons. We look forward to Blaha as Drummond if any of these two idols for us greets us. Thanks again for your time. And thanks to
@Detroit_Spain
by making translations. // Gracias Natalie por la entrevista, aquí en España
need4sheed.com
es un sitio de refrencia. Nos encantan tus caricaturas. Estaremos atentos a Blaha y Drummond por si alguno de los dos ídolos nos saluda. Gracias por tu tiempo.
BALL DON´T LIE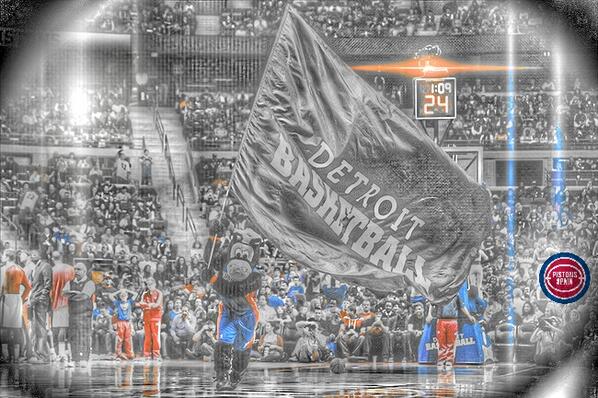 GO
PISTONS!